At Clinomics Europe, liquid biopsy is the present, not the future
 Despite all the progress we have made in developing early diagnostic techniques and targeted therapies, cancer remains the second leading cause of death worldwide. Precision medicine represents a paradigm shift in clinical oncology as it allows for personalized treatment optimization, resulting in higher efficacy and potential reduction of harmful side effects compared to conventional therapeutic approaches. Unfortunately, direct tumor biopsy-based molecular tests are not feasible in many cases due to inaccessible or insufficient material. Furthermore, most of the tumors display regional heterogeneity that can limit the ability of a single, tissue-based biopsy to access the full molecular profile of the tumor. In contrast, liquid biopsy can detect and analyze tumor material shedding from the primary and metastatic sites throughout the whole body, providing a more comprehensive genomic picture. By this means, clinicians can obtain additional information that can facilitate the use of targeted therapies.
While standard tissue biopsies generally involve invasive procedures to detect a tumor, liquid biopsies are generally performed using bodily fluids (e.g., peripheral blood or urine). These materials are easier to access, allowing for more widespread use, particularly in patients who cannot undergo surgery. As a result, the use of liquid biopsies can reduce the time elapsed until treatment based on tumor detection, improve the efficient use of medical staff and resources, and can be used to screen more diseases. Liquid biopsies can also help us avoid some of the potential complications of traditional biopsies, including the risk of tumor spread, injury to surrounding tissue, or severe bleeding.
We develop workflows and various detection methods for
• diagnosing cancers earlier than traditional imaging techniques
• optimizing treatment by molecular analysis,
• identifying resistance mechanisms to cancer therapies,
• predicting cancer recurrence and metastatic processes,
• measuring minimal residual disease or persistent disease following treatment or surgery.
Liquid biopsy has considerable advantages compared to gold-standard techniques, enabling early diagnosis, real-time prognosis, and longitudinal therapy monitoring in cancer patients. Moreover, in addition to well-known protein tumor markers, circulating tumor cells (CTCs), extracellular vesicles (EVs), and cell-free nucleic acids, including DNA and RNA molecules, are gaining more and more attention. These markers can serve as a more sensitive and specific alternative in different types of cancers, and their application holds broader possibilities compared to routinely screened biomarkers. For further information, contact us at (office@clinomicseurope.com).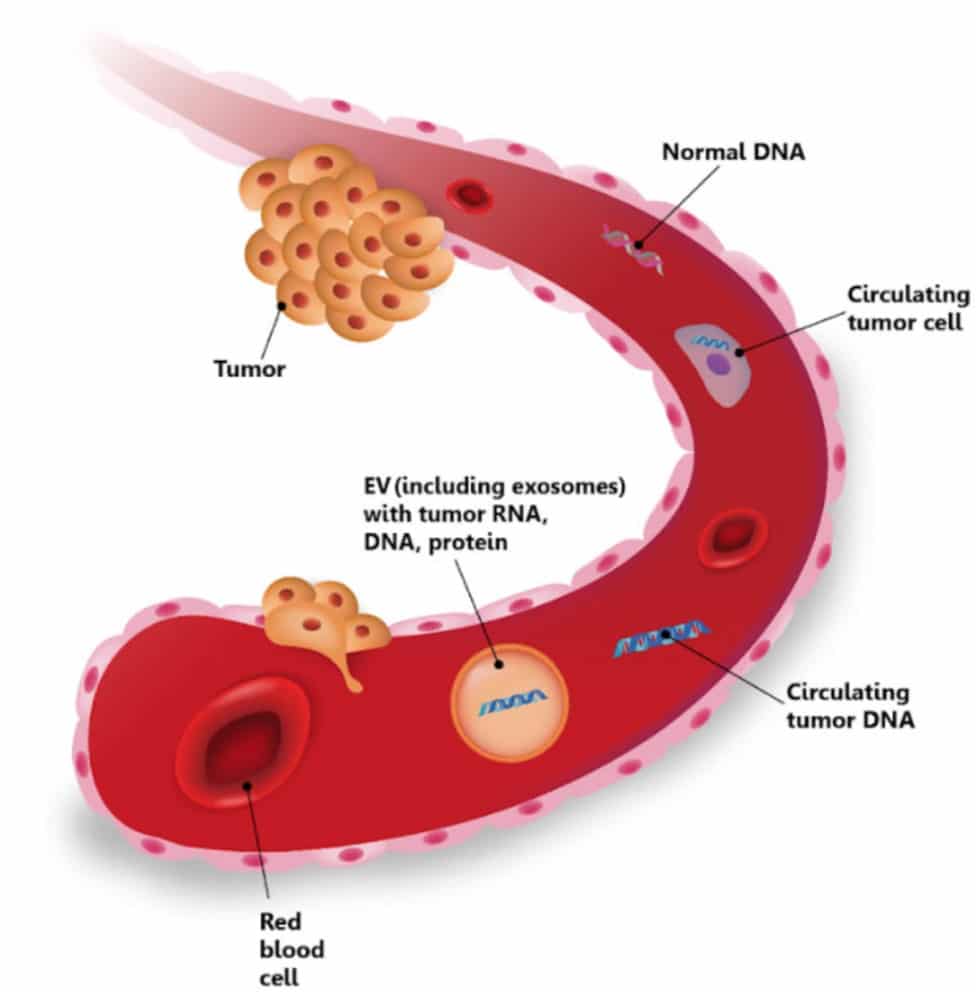 Liquid biopsy research services
Customized solutions for specific projects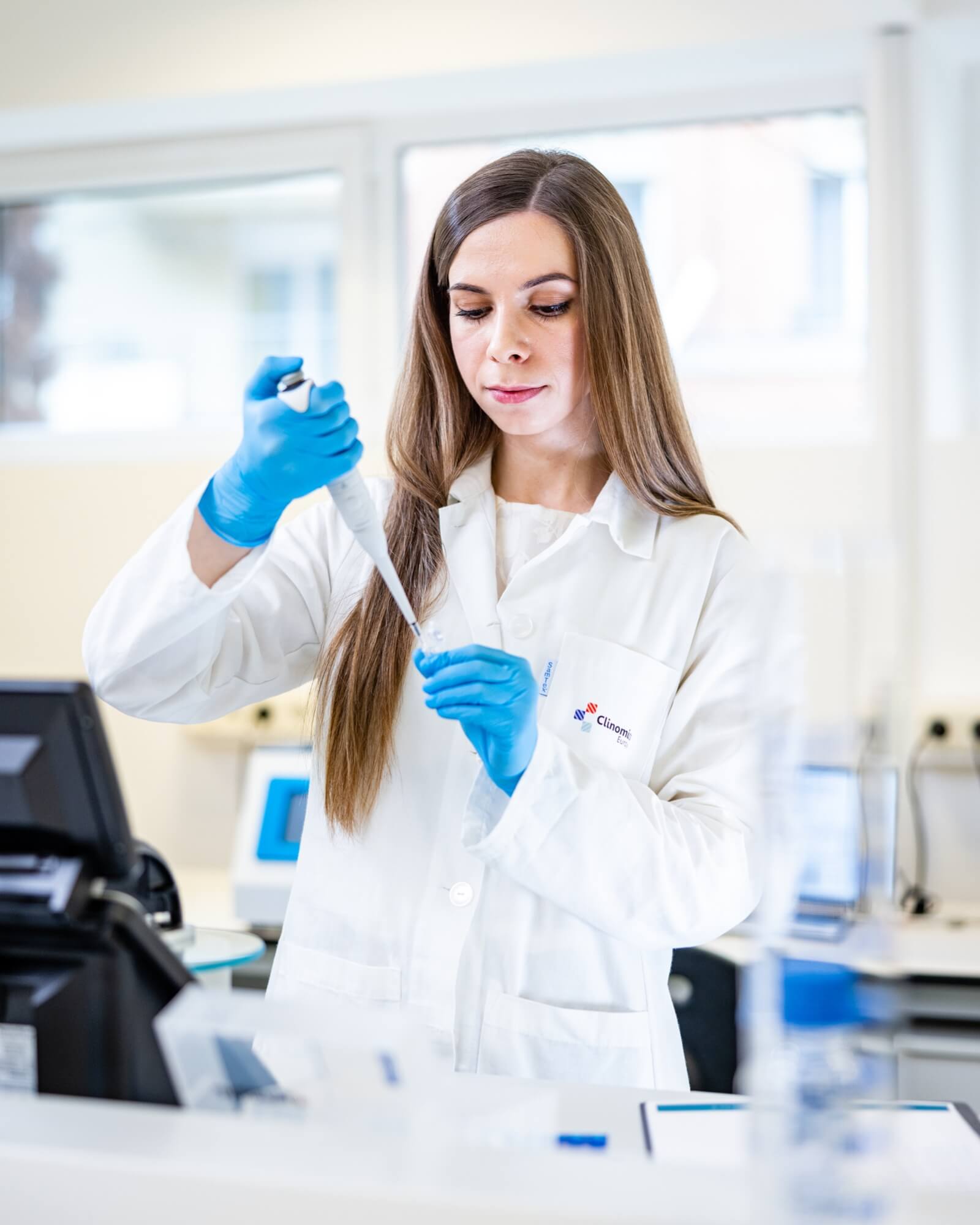 Clinomics Europe presents:
Clinomics Diagnostics
Molecular genetic diagnostics analyzes the unique genetic code in our cells, mapping gene mutations or variants that indicate the possible development of a disease. Breakthroughs at the frontiers of genetic diagnostics and precision medicine now allow us to answer some crucial questions about our health:
am I predisposed to certain diseases,
can I pass on a predisposition to my child,
what challenges can I expect when starting a family?
Clinomics Europe offers a first-class laboratory service in molecular genetic diagnostics to answer these questions reliably and quickly!
Available packages
Our highly trained professionals utilize state-of-the-art diagnostic methods in our newly developed, well-equipped laboratory. Our colleagues process incoming samples as quickly as possible, using procedures that have undergone rigorous quality control. The results are issued after a precise evaluation, but within 5 working days at most. We also provide genetic counseling on request.
Cardiovascular disorders to thrombosis
Family planning, infertility
Get a quote
Fill out the form and our colleague will contact you!